Orchestra Creativa dell'Emilia-Romagna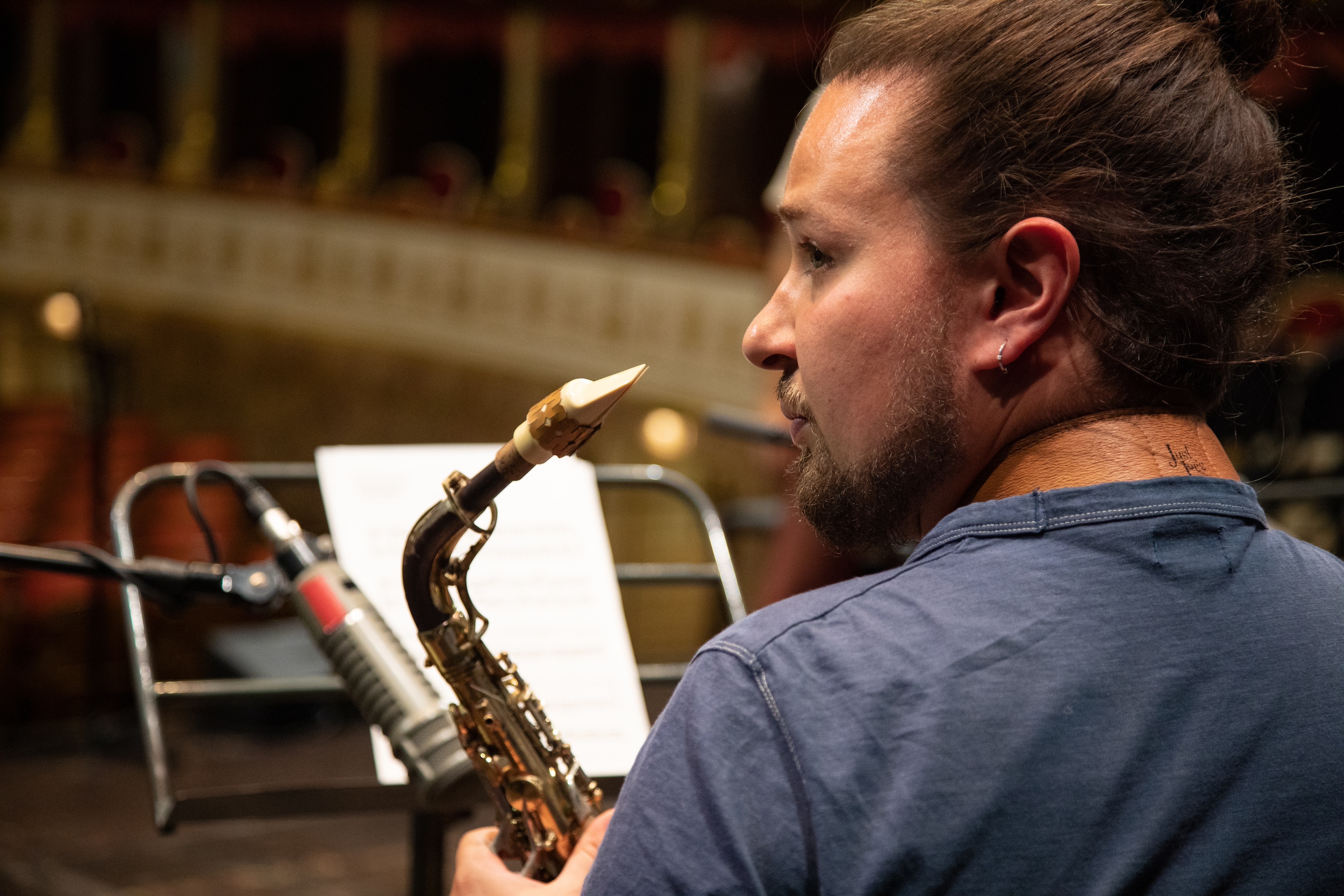 AKAMU representation: worldwide exclusivity
For info and costs please contact Alberto Lofoco


Orchestra Creativa E-R
Valeria Sturba - vocals, violin, theremin, electronics
Vincenzo Vasi - vocals, theremin, objects, electronics
Olivia Bignardi - clarinet and bass clarinet
Achille Succi - alto sax, clarinet and bass clarinet
Tobia Bondesan - soprano sax, alto sax and tenor sax
Edoardo Marraffa - sopranino sax and tenor sax
Francesco Guerri - cello
Fabrizio Puglisi - piano, keyboards and direction
Filippo Cassanelli - double bass
Andrea Grillini - drums



Possible guests: Wayne Horvitz, Dudu Kouaté, Kalifa Konè, Marty Ehrlich, Reda Zine, Gunter "Baby" Sommer and/or other great musicians from the local scene or around Europe.


• presentation •
This new Creative Orchestra is an ensemble made up of musicians active internationally, coming from different parts of Italy and resident in the region Emilia-Romagna, who have been active for years in the field of experimental, creative, impro music and avant-jazz.
The Bolognese scene since the nineties has been characterized and distinguished with its specific approach to sound experimentation in many of its different facets. This ensemble represents a synthesis of what the city currently produces in music on the border between genres, searching new forms and relationships between composition and improvisation. At the same time some young musicians already professionally established were included in the ensemble to create an intergenerational dialogue that gives continuity to this music scene with all its peculiarities, from the transversal approach to genres to the opening towards new languages. Many of the musicians involved for years have written for several ensembles, from big band to symphony orchestra, from electro-acoustic ensembles to the most sophisticated pop.
This ensemble will produce a repertoire presented as an absolute premiere. The idea of a Creative Orchestra stems from the intention of inviting musicians of international standing to conduct it. These guests will be encouraged to write and/or organize music specially designed for the ensemble.
Creative Orchestra E-R, in the development and experimentation of new languages, cannot ignore the encounter with other non-Western cultures, not to pursue an unlikely undifferentiated melting-pot but to create moments and contexts for meeting and exchange respectful of differences and specificities.


• projects available •
- OCE-R meets Gunter "Baby" Sommer
The percussionist is a real pioneer of European free improvisation capable - with his arsenal of percussions, gongs, instruments and objects accumulated over the years - to enrich the tonal universe of the Orchestra.

- Tribute to Butch Morris
with Wayne Horvitz (conduction e composition) and guests Robin Holcomb, Steph Richards, Gabriele Mitelli, Silvia Bolognesi, Camilla Battaglia.
It represents the posthumous realization of a project that Morris himself would have liked to carry out in Bologna before his untimely death: the creation of a stable orchestra with which to develop his particular conduction technique for large ensembles over time. The direction of Creative Orchestra is entrusted in this case to a great American musician who has often conducted and written for big ensembles.

- OCE-R meets Ernst Rejseger
Based on improvisation governed by various types of strategies: the Dutch cellist has always known how to use his virtuosity in order to communicate theatrically and directly with the public, overcoming the barriers of languages considered most "difficult" with great simplicity thanks to his sense of irony and the spontaneity and freshness of his structured improvisations.

- Afrikana with special guest Dudu Kouaté (Senegal), Kalifa Konè (Mali) plus dancers Bifalo (Mali) and Michela De Crescenzo
Meeting with two great masters of Malian and Senegalese music, here for the first time together to deal with other contemporary languages, outside of any model of "genre" pre-established by the superficial label of "world music". Those who know the music of Africa know how in that cultural context music is inseparable from dance, the production of sound is indeed intimately connected to the idea of movement as in many traditional cultures.

- OCER meets Marty Ehrlich + guests: "Tribute to Julius Hemphill"
The meeting with Marty Ehrlich will bring the Creative Orchestra to confront the languages of the avant-garde American jazz, fundamental background of many musicians in the ensemble. He presents his most important works as a composer and arranger of great jazz master Julius Hemphill.

- Guantanamo Orchestra (Afro-Cuban music)
"Orchestra Creativa goes to Guantanamo" will bring the ensemble to confront the ancient Afro-Cuban tradition with the contribution of a great improviser Pasquale Mirra and percussionists William Simone and Danilo Mineo, as well as the young Marimbist Luca Valenza who combines the knowledge of the languages of contemporary percussion cultured with the passion for the conga and the batà, the sacred drums of the santeria rituals.

- Gnawa Project with Melaku Belai, Reda Zine and other musicians
The participation of Reda Zine, singer and player of guimbrì (traditional North African bass) will see the meeting of the Orchestra with the tradition of Moroccan Gnawa music and - on other hand - with the great Ethiopian dancer Melaku Belay, a real foment of the rich artistic community of Addis Ababa from within the Fendika Cultural Center of which he is the founder. Also in this case we will try to find meeting points outside of any model of "genre" pre-established by the superficial label of world music.



• video •
"Tribute to Butch Morris" (starts at 25'25") conducted by Wayne Horvitz - live at Ferrara Jazz Club 18-3-2022

Live at Ferrara Jazz Club (starts at 20'30") - 20-2-2022

"Meets Gunter Baby Sommer" - live at Teatro Tenda, Modena 18-12-2021


• links •
Intervista a Fabrizio Puglisi e Gunter Sommer

Pagina Emilia-Romagna Cultura

Foto Luciano Rossetti


• quotes and reviews •