Anthony Davis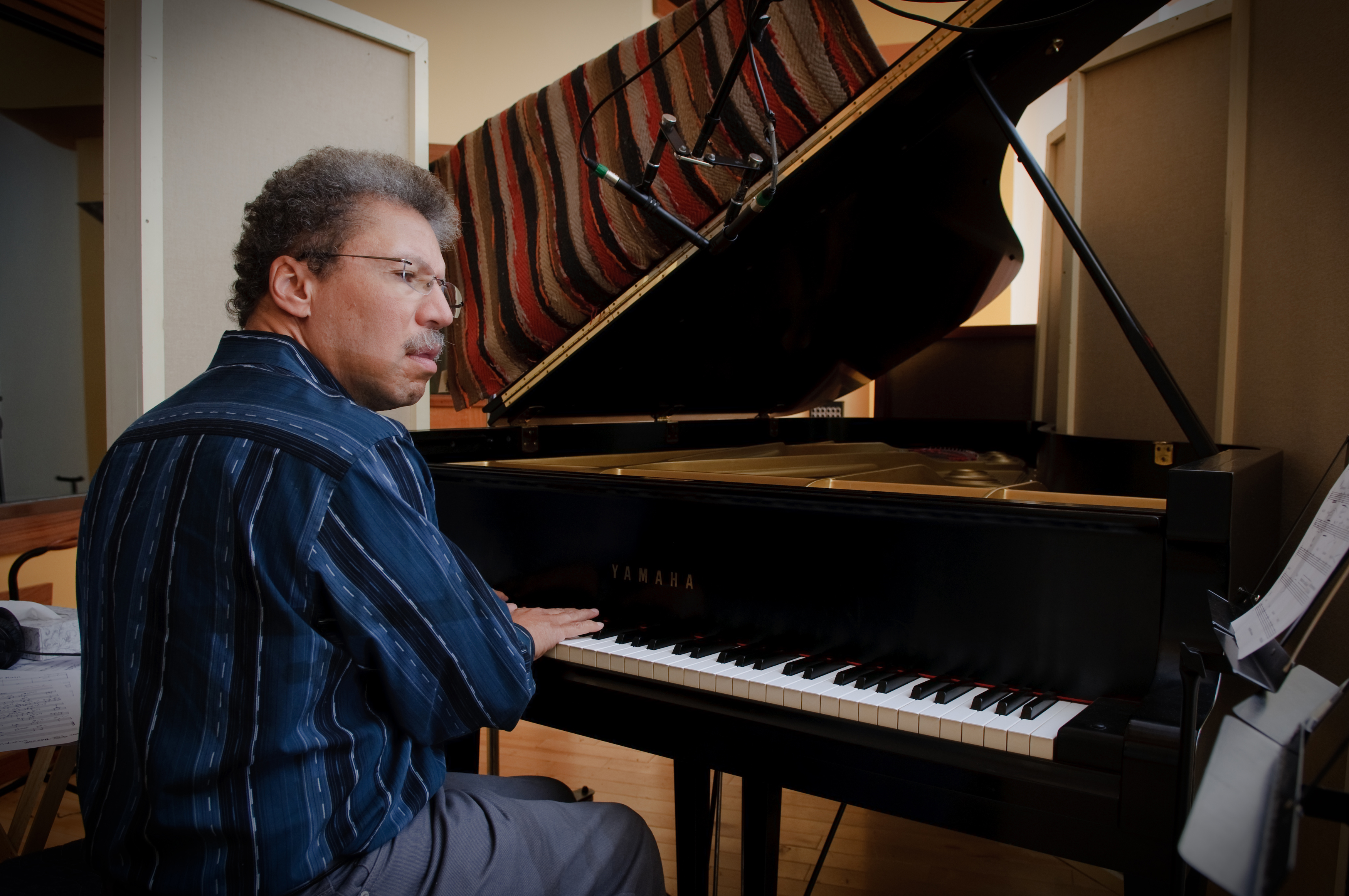 AKAMU representation: European exclusivity
For info and costs please contact Alberto Lofoco



• projects as a leader and composer •

Anthony Davis
Anthony Davis - piano and composition


Anthony Davis & Episteme Ensemble
Cynthia Aaronson-Davis - soprano vocal
Mark Feldman - violin
J.D. Parran - clarinet, contra-alto clarinet and flute
Anthony Davis - piano and compositions
Mark Dresser - double bass
Kjelle Nordesen - drums, percussion, vibraphone and marimba


Anthony Davis & Thulani Davis: "X, The Life and Times of Malcolm X"


A Lyric Opera premiered in a semi-staged production in Philadelphia in 1985 and received its first fully staged production at the New York City Opera in 1986.




Anthony Davis & Thulani Davis: "Amistad"


A Lyric Opera of Chicago's 1997 world-premiere.
Amistad is an opera that was ten years in the making. Thulani and I first discussed the idea of making an opera on the Amistad Rebellion in 1986. We were drawn to the drama of the story, a successful uprising of captives on a slave ship, and the implications of the Amistad incident in an understanding of ourselves and the American experience. Through the Amistad, we could revisit the story of the Middle Passage, the contradictions implicit in the ethos of America, and also explore the emergence of the African-American as a cultural entity. Amistad is my most ambitious work to date and gave me the opportunity to expand upon what I learned from my previous operas as well as the chance to explore new musical areas.




Anthony Davis & Yusef Komunyakaa: "Wakonda's Dream"


A Lyric Opera premiered March 7, 2007 at Omaha, Nebraska's Orpheum.
Wakonda's Dream is about a contemporary Native American family, impacted by the historical events that occurred in Nebraska in 1879 that changed the legal status of American Indians to that of "human beings under the law" for the first time in U.S. history.



• as a co-leader •

Nicole Mitchell & Anthony Davis
Nicole Mitchell - piccolo, alto flute, bass flute and compositions
Anthony Davis - piano and compositions


"Davis began his own, "Of Blues & Dreams" with rhapsodic flourishes - he made the Steinway grand sing like an angel - and, when Mitchell joined him, her velvety-toned melodic gestures soared, swooped, growled and cooed. Davis composes like an improviser and improvises like a composer. His signature piece had plenty of room to branch off into different moods and textures giving Mitchell wide multiples from which to expand. Dynamics were explored in the fullest sense - and when it got quiet - Mitchell responded with breathy overtones and tiny whistle-stops. She even sang into the flute shooting skeins of moaning, yelping multiphonics." Robert Bush, San Diego Reader




Anthony Davis & Mark Dresser
Anthony Davis - piano and composition
Mark Dresser - double bass and composition


The Duo of Dresser Davis performs a wide range of music from the lyrical to the political.
The music is a commentary on today from the political and dramatic, with works like "The Central Park Five" to the whimsical, "I Can Smell You Listening" and "Heil Twitler".
Informed by four decades of collaboration, these two master improvisers engage the full spectrum of Jazz and Improvised music.




Jason Robinson & Anthony Davis
Jason Robinson - tenor sax, alto sax, soprano sax and flute
Anthony Davis - piano




• videos •
Concerning Tania: Reflections on Recording & Performance
A documentary about the staging and recording of a "concert version" of Anthony Davis' acclaimed opera.
Anthony Davis talks about "Tania" based on the kidnapping of Patty Hearst, and premiered in Philadelphia in 1992.
The CD was recorded at UCSD in April 1999 and released in October 2001.

"Lilith": The Complete Performance of World Premiere

"Lilith": The Preview Clip
A 2 minutes excerpt from the world premiere of "Lilith.

Making "Lilith": a documentary.
The performers and artistic team behind "Lilith" discuss the creation and evolution of this world premiere opera, based on Allan Havis' play of the same name.

Talking "Lilith": the creators
Librettist Allan Havis and composer Anthony Davis discuss the creation of "Lilith," a world premiere operatic adaptation of Havis' play of the same name. Set in both biblical times and present-day New York, "Lilith" places Adam's legendary first wife at the center of a devious parable about marriage and sexual politics.

What Creativity Means: Anthony Davis & Friends
Composer Anthony Davis discusses the influences which have shaped his work in contemporary jazz and opera.
He is joined by singers Thomas Young and Cynthia Aronson-Davis in performing excerpts from his operas.

The Life and Times of Malcolm X
Marking the 45th anniversary of the assassination of Malcolm X, New York City Opera, in collaboration with Opera Noire of New York, will present an abridged concert version of The Life and Times of Malcolm X, the brilliant and ground-breaking opera about the great civil rights leader which premiered at City Opera in 1986.
Composer Anthony Davis and scenarist Christopher Davis will offer insights on their inspiration and creative process.
New York City Opera's collaboration with the Schomburg Center is part of Opera Matters, the company's series of events combining conversation, media and live music to celebrate opera's connections to the visual arts, film, literature, the mass media and pop culture, the African-American experience and the world at large.
Curated by City Opera's dramaturge Cori Ellison, Opera Matters brings together prominent artists, scholars and celebrities from diverse artistic and cultural communities to reveal opera's vital place in today's culture.

Lear on the 2nd Floor
Composed by Anthony Davis with a libretto by playwright Allan Havis, "Lear on the 2nd Floor" is a contemporary take on Shakespeare's "King Lear".
It tells the story of Nora Lear, a neuroscience researcher suffering from early-onset Alzheimer's.
As Nora loses her bearings and autonomy, she is increasingly at the mercy of her three quarreling daughters.
In this version, Nora's dead husband Mortimer is Shakespeare's fool and her constant companion, as she wanders through a world where past and present blend and reality bends.
Davis's music incorporates diverse styles and influences, ranging from classical opera to jazz to reggae.

The Central Park Five
Davis' latest opera The Central Park Five, an exploration of the wrongful conviction of five teenagers of color in NYC in the 1980s, premiered at Long Beach Opera in 2019 to international acclaim.
In this conversation with UC San Diego Music Professor Emeritus Cecil Lytle, Davis explains the genesis of The Central Park Five, and the challenges that ensue when art collides with current events.



• audio •
"Cerulean Seas and Viridian Skies" from Cerulean Landscape

"Shimmer" from Cerulean Landscape



• texts and quotes •
Any Means Necessary by Frank J. Oteri

Anthony Davis's Revolutionary Opera: "X" by Ryan Ebright - New Yorker (22-5-2020)

Composer Anthony Davis Imagines His Freedom by Michael Zwiebach, February 6, 2021



• pictures •
Click here to download picture of Anthony Davis on piano in hi-resolution

Click here to download picture of Robinson-Davis colour picture in hi-resolution

Click here to download picture of Robinson-Davis black and white picture in hi-resolution



• discography & biography •
Anthony Davis discography at Discogs

Biography at Musician Guide website (Musician Biographies)


Anthony Davis is born in Paterson, New Jersey, on 20 February 1951.

Anthony Davis is an internationally known composer of operatic, symphonic, choral, and chamber works.
He is also known for his virtuoso performances both as a solo pianist and as the leader of the ensemble Episteme, a unique ensemble of musicians who are disciplined interpreters as well as provocative improvisers.

He studied at Wesleyan and Yale universities and he was Yale's first Lustman Fellow, teaching composition and Afro-American studies.
In 1987 Davis was appointed Senior Fellow with the Society for the Humanities at Cornell University, and in 1990 he returned to Yale University as Visiting Professor of Music.
He became Professor of Music in Afro-American Studies at Harvard University in the fall of 1992, and assumed a full-time professorship at the University of California at San Diego in January 1998.

In April 1993, Davis made his Broadway debut, composing the music for Tony Kushner's Pulitzer Prize-winning play Angels in America: Millennium Approaches, directed by George C. Wolfe.
His music is also heard in Kushner's companion piece, Perestroika, which opened on Broadway in November 1993.

As a composer, Davis is best known for his operas. X, The Life and Times of Malcolm X, which played to sold-out houses at its premiere at the New York City Opera in 1986, was the first of a new American genre: opera on a contemporary political subject. The recording of X was released on the Gramavision label in August 1992 and received a Grammy Nomination for "Best Contemporary Classical Composition" in February 1993.
"[X] has brought new life to America's conservative operatic scene," enthused Andrew Porter in The New Yorker, "it is not just a stirring and well fashioned opera -- that already is much -- but one whose music adds a new, individual voice to those previously heard in our opera houses."
Davis's second opera, Under the Double Moon, a science fiction opera with an original libretto by Deborah Atherton, premiered at the Opera Theatre of St. Louis in June 1989.
His third opera, Tania, with a libretto by Michael-John LaChiusa and based on the abduction of Patricia Hearst, premiered at the American Music Theater Festival in June 1992. A recording of Tania was released in 2001 on Koch, and in November 2003, Musikwerkstaat Wien presented its European premiere.
A fourth opera, Amistad, about a shipboard uprising by slaves and their subsequent trial, premiered at the Lyric Opera of Chicago in November 1997. Set to a libretto by poet Thulani Davis, the librettist of X, Amistad was staged by George C. Wolfe.

Reacting to two of Davis's orchestral works, Maps (Violin Concerto) and Notes from the Underground, Michael Walsh said in Time Magazine: "Imagine Ellington's lush, massed sonorities propelled by Bartók's vigorous whiplash rhythms and overlaid with the seductive percussive haze of the Balinese gamelan orchestra, and you will have an idea of what both the Concerto and Notes from the Underground sound like."
Davis's works also include the Violin Sonata, commissioned by Carnegie Hall for its Centennial; Jacob's Ladder, a tribute to Davis's mentor Jacob Druckman commissioned by the Kansas City Symphony; Esu Variations, a concert opener for the Atlanta Symphony; Happy Valley Blues, a work for the String Trio of New York with Davis on piano; and "Pale Grass and Blue, Then Red," a dance work choreographed by Ralph Lemon for the Limon Dance Company.
His orchestral works have been performed by the New York Philharmonic, San Francisco Symphony, Pittsburgh Symphony, Atlanta Symphony, Orchestra of St. Luke's, Brooklyn Philharmonic, Kansas City Symphony, Beethoven Halle Orchestra of Bonn, and the American Composers Orchestra.
The Chicago Symphony Orchestra performed Davis's opera X, The Life and Times of Malcolm X in concert in November 1992.
The Pittsburgh Symphony commissioned a concert-opener from Davis entitled Tales (Tails) of the Signifying Monkey.
In the 2003-2004 season Davis served as Artistic Advisor of the American Composers Orchestra's Improvise! festival and conference which featured a performance of Wayang V with Davis as piano soloist.
Oakland Opera Theatre presented X, The Life and Times of Malcolm X in 2006, and Spoleto Festival USA produced Amistad in its revised and reduced form in 2008.
The La Jolla Sympony premiered Amistad Symphony in 2009.




• operas •
"X, The Life and Times of Malcolm X" (1986)
"Under the Double Moon" (1989)
"Tania" (1992)
"Amistad" (1997)
"Wakonda's Dream" (2007)
"Lilith" (2009)
"Lear on the 2nd Floor" (2013)
"Central Park Five" (2019)