Gabriele Mirabassi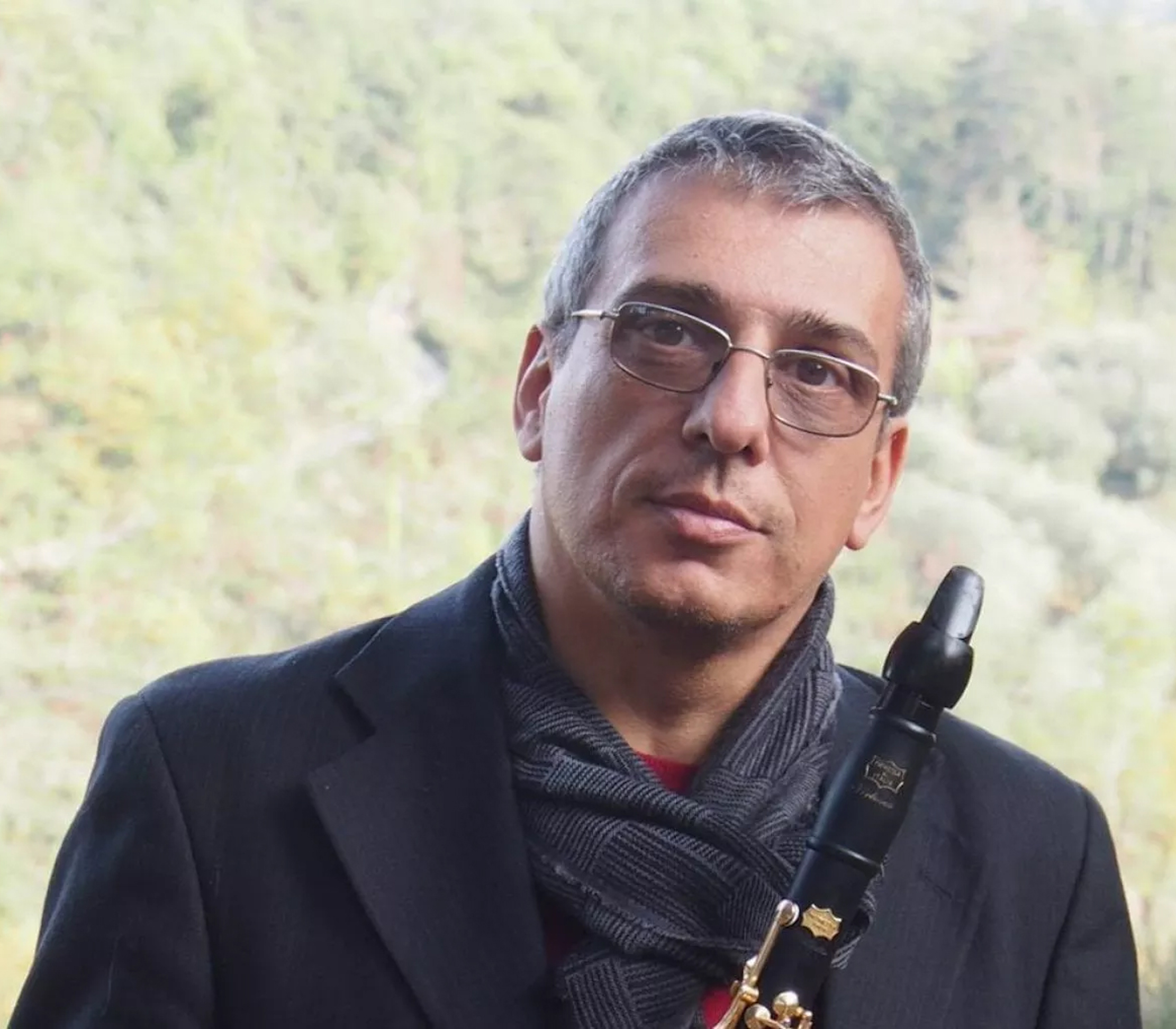 Gabriele Mirabassi website


AKAMU representation: European exclusivity
For info and costs please contact Luciano Bertrand


• projects as a leader •
Gabriele Mirabassi & Simone Zanchini
Gabriele Mirabassi - clarinet
Simone Zanchini - accordion


Chamber Songs
Gabriele Mirabassi - clarinet
Enrico Zanisi - piano


Um Brasil diferente
Gabriele Mirabassi - clarinet
Roberto Taufic - acoustic guitar


Correnteza
Gabriele Mirabassi - clarinet
Roberto Taufic - acoustic guitar
Cristina Renzetti - vocals


Gli Amori Sospesi
Gabriele Mirabassi - clarinet
Nando di Modugno - acoustic guitar
Pierluigi Balducci - acoustic bass



• projects as a sideman •
Renato Borghetti Quartet with special guest Gabriele Mirabassi
Gabriele Mirabassi - clarinet
Renato Borghetti - gaita ponto
Pedro Figueiredo - saxes and flute
Daniel Sá - acoustic guitar
Vitor Peixoto - piano




• video •
"Correnteza" - Cristina Renzetti, Gabriele Mirabassi, Roberto Taufic - Recorded at Santa Cecilia Auditorium, Perugia (April 2014)



• biography •
Italian clarinetist Gabriele Mirabassi was born in Perugia and studied both modern classical music and jazz improvisation at the prestigious Morlacchi Conservatory, from which he graduated in 1986.
At first, he focused on performing modern compositions under the direction of figures like John Cage and Gunther Schuller, among many others. However, in 1992, he cut the jazz-oriented recording Coloriage with accordionist Richard Galliano, which helped make a name for him on the European jazz scene.
Eventually, Mirabassi chose to focus solely on jazz; he went on to perform at numerous high-profile jazz events in Europe and beyond, and began recording regularly for Egea in the mid-'90s.
1995's Fiabe was a duo outing with pianist Stefano Battaglia, and the 1996 quartet session "Come Una Volta" helped him win an Italian award as the year's top new talent.
1997's Cambaluc was a larger-scale outing that teamed him with Galliano, his brother Giovanni on piano, guitarist Battista Lena, organist Riccardo Tesi, and the Namaste Clarinet Quartet.
Mirabassi teamed with guitarist Sergio Assad for the 1999 duets album Velho Retrato, and formed a regular trio with accordionist Luciano Biondi and tuba player Michel Godard. This lineup dominated 2000's acclaimed Lo Stortino; the same year, Mirabassi recorded Luna Park with a horn-heavy sextet.
2001's 1 – 0 augmented the trio with mandolin player Patrick Vaillant, and Mirabassi also recorded with Rabih Abou-Khalil that year.




• discography •
1990 - Electroacoustic Quartetto
1992 - Coloriage - Egea (con Richard Galliano)
1995 - Fiabe - Egea (con Stefano Battaglia)
1996 - Come una volta - Egea (con Battista Lena, Enzo Pietropaoli e Gianni Coscia)
1998 - Cambaluc - Egea (Richard Galliano, Riccartdo Tesi, Quartetto Namaste)
1999 - Velho Retrato - Egea (con Sérgio Assad)
2000 - Luna Park
2000 - Lo stortino
2000 - Racconti mediterranei - Egea (Enrico Pieranunzi e Marc Johnson)
2001 - 1-0 (Uno a zero)
2002 - Latakia Blend - Enja (con Luciano Biondini e Michel Godard)
2003 - Fuori le mura - (con Luciano Biondini)
2003 - Le Regard d'un Ange - (con Linda Bsiri, Michel Godard e Michele Rabbia)
2004 - Graffiando Vento - Egea (con Guinga)
2005 - New Old Age - Egea (con John Taylor e Steve Swallow)
2008 - Canto di ebano - Egea (con Peo Alfonsi, Salvatore Maiore e Alfred Kramer)
2008 - En Vivo! - (con Alta Madeira)
2008 - Tango Mediterraneo - (con Nuevo Tango Ensemble)
2010 - Miramari - Egea (con Andrè Mehmari)
2013 - A testa in giù - Egea (con l'Orquestra a base de sopro de Curitiba)
2014 - Um Brasil diferente - Dodicilune
2015 - Gli Amori Sospesi - Dodicilune
2018 - Nitido e obscuro (con Roberto Taufic)
2018 - Passos e assovio - (con Guinga)
2018 - Agreste - Sard Music (con Cristina Renzetti e Roberto Taufic)
2019 - Terranima - (con Vince Abbracciante)
2019 - Chamber Songs (con Enrico Zanisi)
2021 - Tabacco e caffè - (con Di Modugno e Balducci)
2021 - Il gatto e la volpe - (con Simone Zanchini)