Matthew Shipp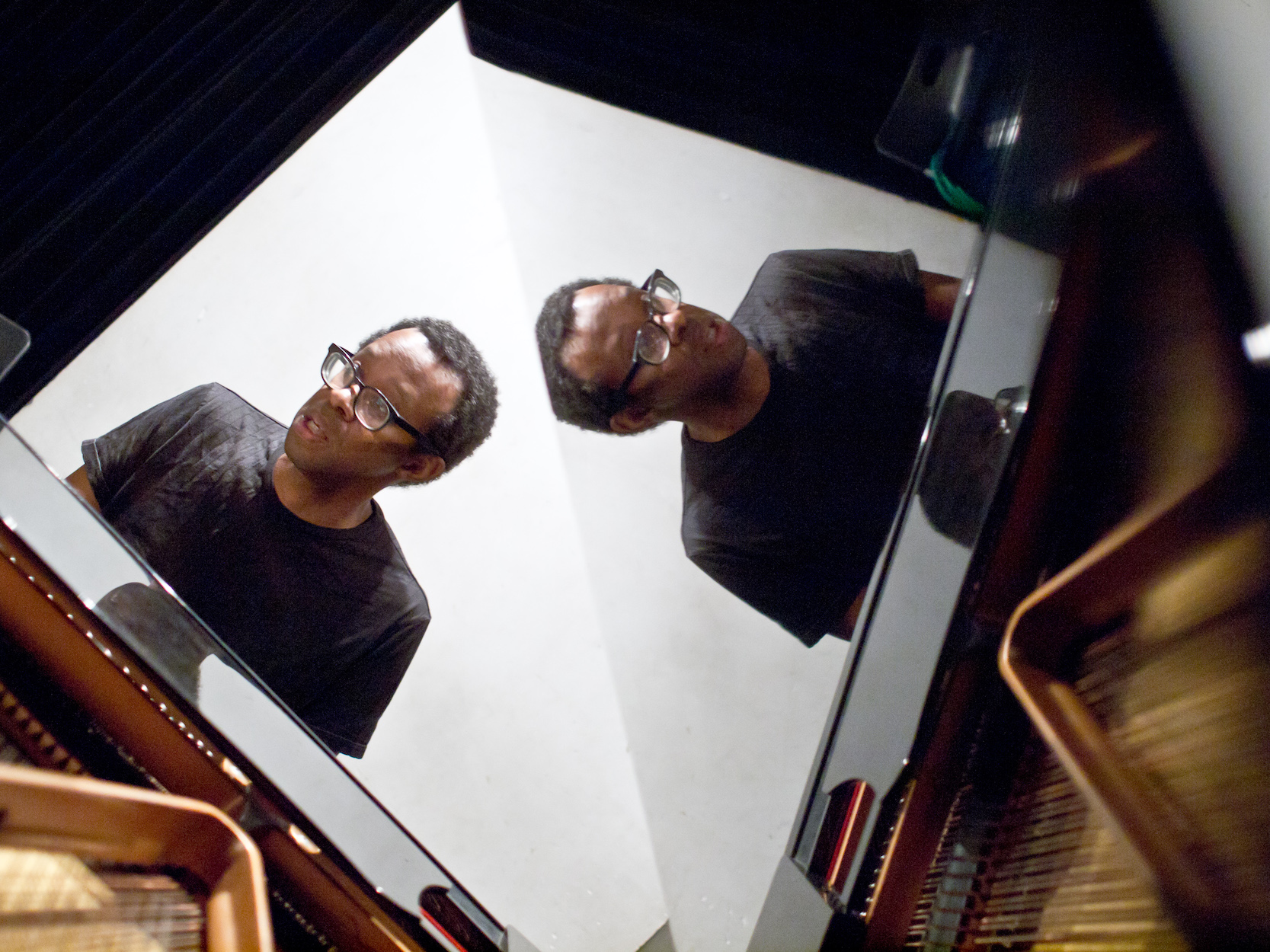 (photo by Peter Gannushkin)



AKAMU representation: European exclusivity
For info and costs please contact Alberto Lofoco




Matthew Shipp has reached the holy grail of jazz in that he possesses a unique style on his instrument that is all of his own, and he's one of the few in jazz that can say so. Shipp has recorded a lot of albums with many labels but his 2 most enduring relationships have been with two labels. In the 1990s he recorded a number of chamber jazz cds with Hatology, a group of cds that charted a new course for jazz that, to this day, the jazz world has not realized. In the 2000s Mr. Shipp has been curator and director of the label Thirsty Ear's "Blue Series" and has also recorded for them. In this collection of recordings he has generated a whole body of work that is visionary, far reaching and many faceted. Matthew Shipp is truly one of the leading lights of a new generation of jazz giants.

A musician who deserves a place of choice in the jazz piano pantheon - Matthew Shipp is the connection between this past, present and future for jazz heads of all ages. (Downbeat)

It's a joy to follow his ardent flow unfolding like a well-told surrealist narrative. (New York Times)

Shipp has helped define, with uncommon distinction, a fresh range of possibilities for contemporary pianism grounded in jazz tradition - raise complex questions and yet invites listeners in. (Wall Street Journal)

Absolute brilliance - the division between mind and body has been completely obliterated - these improvisations are elevated into the realm of composition by an internal logic that only Shipp comprehends - these compositions contain worlds. In conclusion this, Art Tatum, Bud Powell, Herbie Nichols, Thelonious Monk. Cecil Taylor. Matthew Shipp. (The Free Jazz Collective)



• projects •

Matthew Shipp Trio
Matthew Shipp - piano
Michael Bisio - double bass
Newman Taylor Baker - drums

Also available as special guest:
Nicole Mitchell - flutes


Matthew Shipp String Trio (only for US)
Matthew Shipp - piano
Mat Maneri - viola
William Parker - double bass


Matthew Shipp piano solo
Matthew Shipp - piano




• latest releases •

2019 - Ivo Perelman - Matthew Shipp, Live in Nuremberg (SMP Records)

2019 - Ivo Perelman - Matthew Shipp, Efflorescence Vol. 1 (Leo Records)
All About Jazz review Ivo Perelman / Matthew Shipp: Efflorescence Vol 1 by Mark Corroto

2019 - Matthew Shipp Trio feat. Nicole Mitchell, All Things Are (RogueArt)
>>Listen to All Things Are

2019 - Matthew Shipp Trio, Signature: (ESP-Disk')
>>Listen to Signature
All About Jazz review Matthew Shipp Trio: Signature by Karl Ackermann

2019 - Matthew Shipp String Trio, Symbolic Reality (RogueArt)

2019 - Matthew Shipp - Nate Wooley, What If? (RogueArt)

2018 - Ivo Perelman / Matthew Shipp - Oneness (Leo Records)
>>Listen to Oneness

2018 - Matthew Shipp piano solo - Zero (ESP-Disk')

2017 - Matthew Shipp Trio - Piano Song (Thirsty Ear)
>>Listen to "Gravity Point", from Piano Song
All About Jazz review Matthew Shipp Trio: Piano Song by Mark Corroto


• videos •
Documentary Matthew Shipp - A Black Mystery Pianist

Concert Matthew Shipp Trio in Buenos Aires - November 2017

Video and interview Ivo Perelman and Matthew Shipp

Matthew Shipp Trio-"The Conduct Of Jazz" (Behind The Scenes)

Matthew Shipp Trio "Root Of Things"

Excerpt from Cafe Oto solo concert - London

Matthew Shipp: The Piano Equation


• interviews/stories •

Observer Matthew Shipp by Brad Cohan

Downbeat Matthew Shipp by by Eugene Holley jr.

The Guardian Matthew Shipp: the jazz pianist still messing with our minds by Philip Clark

Perfect Sound Forever Matthew Shipp by Dave Reitzes


• biography •
With his unique and recognizable style, pianist Matthew Shipp worked and recorded vigorously from the late '80s onward, creating music in which free jazz and modern classical intertwined. He first became well known in the early '90s as the pianist in the David S. Ware Quartet, and soon began leading his own dates -- most often including Ware bandmate and leading bassist William Parker -- and recording a number of duets with a variety of musicians, from the legendary Roscoe Mitchell to violinist Mat Maneri, the latter another musician who began making a name for himself in the '90s.
Through his range of live and recorded performances and unswerving individual development, Shipp has come to be regarded as a prolific and respected voice in creative music into the new millennium.
Born on December 7th, 1960 and raised in Wilmington, Delaware, he grew up around '50s jazz recordings. He began playing piano at the young age of 5, and decided to focus on jazz by the time he was 12. He played on a Fender Rhodes in rock bands while privately devouring recordings by a variety of jazz players. His first mentor was a man in his hometown named Sunyata, who was enthusiastic about a variety of subjects in addition to music. Shipp later studied music theory and improvisation under Clifford Brown's teacher Robert "Boisey" Lawrey, as well as classical piano and bass clarinet for the school band. After one year at the University of Delaware, Shipp left and took lessons with Dennis Sandole for a short time, after which he attended the New England Conservatory of Music for two years.
Shipp moved to New York City in 1984 and soon met bassist William Parker, among others.
Both were playing with tenor saxophonist Ware by 1989. Meanwhile, Shipp had debuted as a recording artist in a duo with alto player Rob Brown on "Sonic Explorations", recorded in November 1987 and February 1988. Shipp married singer Delia Scaife around 1990. He then went on to lead his own trio with Parker and drummers Whit Dickey and Susie Ibarra. Shipp has led dates for a number of labels, including FMP, No More, Eremite, Thirsty Ear, and Silkheart. In 2000, he began acting as curator for "Thirsty Ear's Blue Series". This excellent series hosted a number of Shipp's own recordings, as well as the recordings of William Parker, Tim Berne, Roy Campbell, Craig Taborn, Spring Heel Jack and Mat Maneri. The following year saw the release of "Nu Bop", an exploration into traditional jazz, followed closely by its 2003 counterpart, "Equilibrium". In 2004, Shipp released "Harmony and Abyss", a meditation on repetitive melodic and harmonic structures. One arrived in January 2006 and "Piano Vortex" followed a year later.
4D4D, featuring Shipp on solo piano, was released by "Thirsty Ear" early in 2010. It was one of several recordings from the pianist in the initial years of the 21st century, which included a two-disc solo piano recital entitled "Creation Out of Nothing: Live in Moscow" on the "SoLyd Records" imprint and the stellar trio set "Night Logic", with Joe Morris and former Sun Ra saxophonist Marshall Allen, on the "Rogue Art" label. Shipp kept up the pace in 2011, kicking off the year with the double-CD offering "Art of the Improviser", which showcased him in two different live settings: one solo and one in a trio with bassist Michael Bisio and drummer Whit Dickey. In the spring he released a duet recording with alto saxophonist Darius Jones entitled Cosmic Lieder on the AUM Fidelity label. In 2012, he re-formed the trio with Bisio and Dickey for Elastic Aspects. Shipp entered into a prolific collaboration with saxophonist Ivo Perelman for a slew of projects that year, and 2013 included a duet, trios, and quartets with various personnel, all issued by Leo Records. Titles included The Gift, The Clairvoyant, The Foreign Legion, A Violent Dose of Anything, Enigma, The Art of the Duet, Vol. 1, The Edge, and Serendipity. In the fall of 2013, Shipp released the solo piano offering Piano Sutras for Thirsty Ear, as well as a retrospective for the label entitled Greatest Hits and a duet offering with saxophonist John Butcher, Fataka 2.
Roots of ThingsShipp maintained a prolific release and touring pace in 2014. First to appear was the trio date The Roots of Things in February with Dickey and Bisio, followed by two more sets in various ensembles with Perelman. The first, entitled The Other Edge, was issued in March and featured the pianist's quartet backing the saxophonist, while the second, released the same month, was Book of Sound, a collaborative recording between Perelman, Shipp, and Parker. Symbol Systems, a solo piano outing, appeared in May from Lithuania's No Business label, while The Darkseid Recital, a second chapter in Jones' and Shipp's "Cosmic Lieder," was released in August by AUM Fidelity, followed by the solo piano offering I've Been to Many Places on Thirsty Ear in September. That year, the French Rogue Art label issued no less than four Shipp-led dates compiled from several years of performances. They included the solo Piano (2008); a duet album with Evan Parker entitled Rex, Wrecks & XXX (2013); Right Hemisphere with Brown, Dickey and Morris (2008), and Declared Enemy: Salute to the 100001 Stars: A Tribute to Jean Genet with Parker, Gerald Cleaver, Sabir Mateen, and Denis Lavant (2006).
Our Lady of the Flowers The following year saw two more releases from the label. Our Lady of the Flowers was a Genet tribute follow-up a decade on (sans Lavant), and the controversial but still widely celebrated trio recording To Duke. Shipp also issued a pair of duet recordings: Live at Okuden: The Uppercut with Polish reed and woodwind master Mat Walerian on ESP-Disk, and Callas with Perelman for Leo.
Complementary Colors Associations with both men produced more 13 more recordings in 2016 and 17. Complementary Colors and Corpo were duo dates with Perelman (the pair released 13 albums together before 12017 was out), while Butterfly Whispers added Dickey to make it a trio. Live at Okuden: Jungle with Walerian and Hamid Drake, capturing a performance from 2012, was released by ESP-Disk. The pianist issued a trio date titled Piano Song in early 2017, with Michael Bisio on bass and drummer Newman Taylor Baker. Produced by Peter Gordon, it marked Shipp's swan song as a recording artist for Thirsty Ear, though he remained curator of its Blue Series imprint. An ESP-Disk trio date with Walerian and Parker was released as Toxic: This Is Beautiful Because We Are Beautiful People during the late spring.

About Matthew Shipp Trio: With historic concert at Carnegie Hall (joined by Roscoe Mitchell) in January 2018, and the acclaimed 2019 albums Signature (ESP-Disk') and All Things Are (RogueArt), with acclaimed flutist Nicole Mitchell, Matthew Shipp Trio with longtime fellows Michael Bisio and Newman Taylor Baker truly stands out as a contemporary classic. While often associated with free jazz, Shipp is far too capacious for any one school or aesthetic. His famously percussive attack is evident on Signature and All Things Are, but so is his rhapsodic lyricism, his love of open space, and his deep and abidingly personal reflections on jazz's eternal dialogue between its storied past and searching future.
Michael Bisio has been Shipp's regular bassist since Art of the Improviser (2011), and has repeatedly proved to be an ideal partner, due to his deep sensitivity and his intuitive affinity for the leader's oblique methodology; drummer Newman Taylor Baker, says Shipp, "has a whole university of experiences and a certain elegance and ties it all together in a certain way that gives me absolute freedom."

About Ivo Perelman - Matthew Shipp Duo: Cementing a 20-year artistic partnership, the duo of saxophonist Ivo Perelman and pianist Matthew Shipp creates totally improvised music as lyrical as it is audacious. By discarding every conventional foundation of music - written melodies, chord schemes, predetermined tempo or time signature - they eliminate the boundaries between traditional composition and performance. Perelman's protean tone fuses extended technique with a purity of passion, complemented by Shipp's own array of timbral combinations and gradations of attack. On their shared expedition of discovery, they have become the Lewis and Clark of post-freedom music.