Wyattando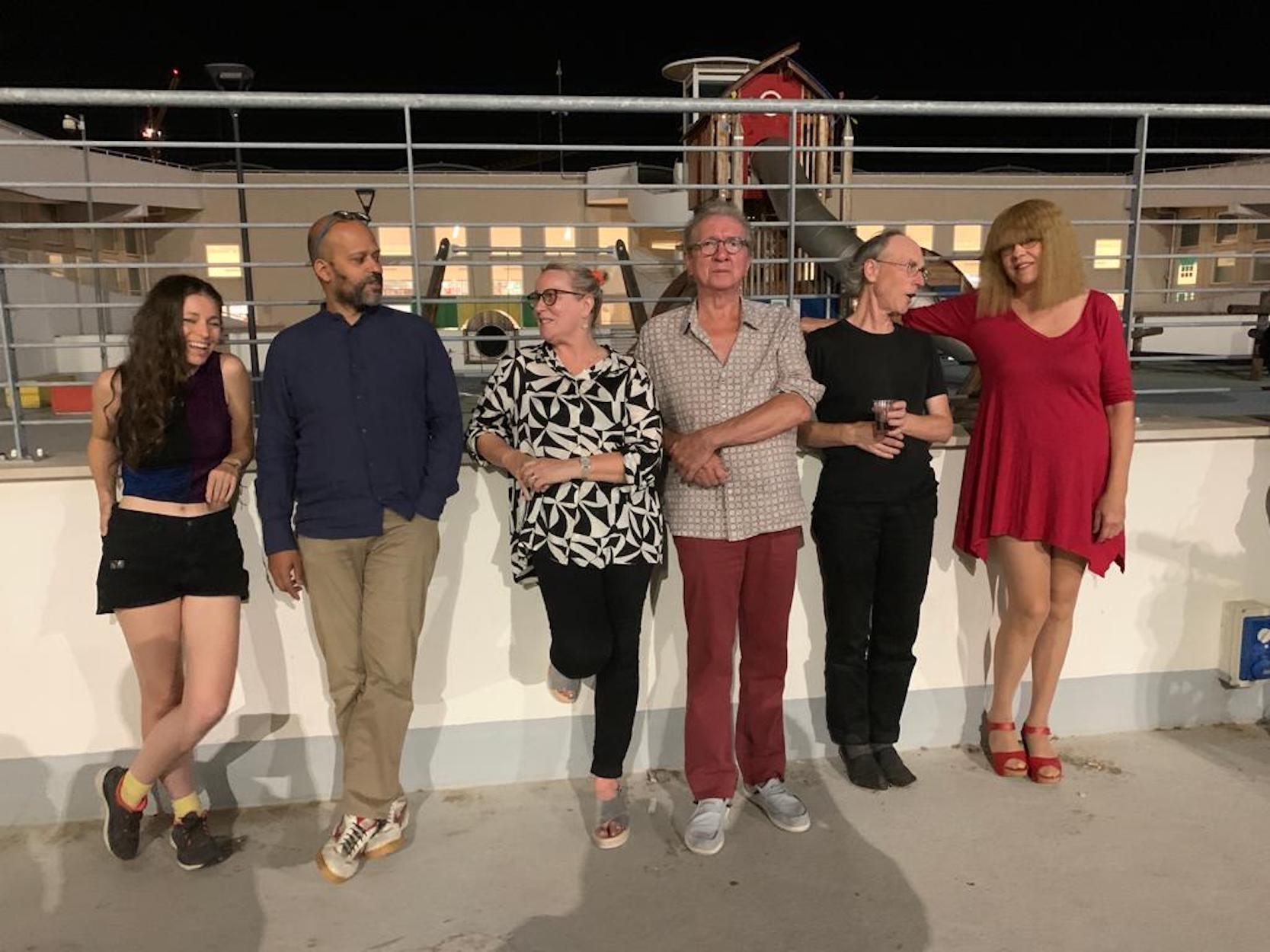 AKAMU representation: World exclusivity
For info and costs please contact Alberto Lofoco


Wyattando - A Tribute to Robert Wyatt
Heidi Heidelberg - vocals and electric guitar
Mauricio Velasierra - flutes, zikus and backing vocals
Annie Whitehead - trombone and vocals
Karen Mantler - vocals, hammond b3 and chromatic harmonica
John Greaves - vocals and electric bass
Chris Cutler - drums



Formerly "Comicoperando"©, the band - with a new line-up and arrangements - pay tribute to one of the world's best-loved singers and songwriters in jazz and pop history. They revisit and reinvent Robert Wyatt's repertoire from a wide range of perspectives while remaining rooted in the composer's restlessly inventive and iconoclastic spirit.

Wyattando© is an original project created by Akamu.


• program for 90' set •
Alifib (Robert Wyatt)                    Rock Bottom (1974)
Little Red Robin Hood Hit The Road (Robert Wyatt)  Rock Bottom (1974)
Left On Man (Robert Wyatt)                Dondestan (1991)
Forest (Alfreda Benge / Robert Wyatt)           Cuckooland (2003)
Gloria Gloom (Bill MacCormick / Robert Wyatt)      Matching Mole's Little Red Record (1972)
Sea Song (Robert Wyatt)                  Rock Bottom (1974)
God Song (Phil Miller / Robert Wyatt)           Matching Mole's Little Red Record (1972)
Maryan (Robert Wyatt / Philip Catherine)          Shleep (1997)
Beware (Karen Mantler)                   Cuckooland (2003)
Alliance (Robert Wyatt)                   Old Rottenhat (1985)
September the Ninth (Alfreda Benge / Robert Wyatt)   Shleep (1997)
Life is Sheep (Karen Mantler)                Cuckooland (2003)
The United States of Amnesia (Robert Wyatt)       Old Rottenhat (1985)
Little Red Riding Hood Hit The Road (Robert Wyatt)   Rock Bottom (1974)
Gharbzadegi (Robert Wyatt)                Old Rottenhat(1985)
Team Spirit (Bill MacCormick / Robert Wyatt)        Matching Mole's Little Red Record (1972)
The Official Robert Wyatt Fan Club Song (Karen Mantler)

Other songs that they could be play:
Just as You Are (Alfreda Benge / Robert Wyatt)      Comicopera (2007)
Memories (Hugh Hopper / Robert Wyatt)          Faces and Places Vol. 7 (1972)
Old Europe (Alfreda Benge / Robert Wyatt)         Cuckooland (2003)
Out of the Blue (Alfreda Benge / Robert Wyatt)      Comicopera (2007)
Soup Song (Brian Hopper / Robert Wyatt)         Ruth Is Stranger Than Richard (1975)
The British Road (Robert Wyatt)              Old Rottenhat (1985)
The Duchess (Robert Wyatt)                Shleep (1997)


• video •
Comicoperando in Amsterdam - Filmed at Bimhuis, May 19th, 2011

Comicoperando: "Soup Song" - Encore piece at Queen Elizabeth Hall, London, May 12th, 2011

Comicoperando: "Sea Song" - Debut concert at Teatro Comunale, Modena, March 1st, 2010



• links •
Comicoperando: Review London concert by Henry Potts

Comicoperando: Flyer for the premiere in Modena

Comicoperando on Wikipedia

Comicoperando: Recensione del concerto di Modena a cura di Giuseppe Basile (in italiano)



• old programs in Comicoperando •
In the last edition (sextet):
Sea Song (Robert Wyatt)                 Rock Bottom (1974)
O Caroline (Dave Sinclair / Robert Wyatt)         Matching Mole's Little Red Record (1972)
Gloria Gloom (Bill MacCormick / Robert Wyatt)      Matching Mole's Little Red Record (1972)
Team Spirit (Bill MacCormick / Robert Wyatt)       Matching Mole's Little Red Record (1972)
September the Ninth (Alfreda Benge / Robert Wyatt)   Shleep (1997)
The British Road (Robert Wyatt)              Old Rottenhat (1985)
Alliance (Robert Wyatt)                  Old Rottenhat (1985)
Little Red Robin Hood Hit The Road (Robert Wyatt)   Rock Bottom (1974)
Alifib (Robert Wyatt)                    Rock Bottom (1974)
Soup Song (Brian Hopper / Robert Wyatt)        Ruth Is Stranger Than Richard (1975)
The United States of Amnesia (Robert Wyatt)      Old Rottenhat (1985)
Maryan (Robert Wyatt / Philip Catherine)         Shleep (1997)
Out of the Blue (Alfreda Benge / Robert Wyatt)     Comicopera (2007)
Just as You Are (Alfreda Benge / Robert Wyatt)     Comicopera (2007)
Memories (Hugh Hopper / Robert Wyatt)         Faces and Places Vol. 7 (1972)
Little Red Riding Hood Hit The Road (Robert Wyatt)  Rock Bottom (1974)
Life is Sheep (Karen Mantler)               Cuckooland (2003)
Beware (Karen Mantler)                  Cuckooland (2003)

In the first edition (nonet at premiere in Modena) they play also:
Calyx (Phil Miller / Robert Wyatt)             Hatfield and the North (1974)
Alien (Alfreda Benge / Robert Wyatt)           Shleep (1997)
Was A Friends (Robert Wyatt / Hugh Hopper)      Shleep (1997)
Dondestan (Robert Wyatt)                 Dondestan (1991)
Forest (Alfreda Benge / Robert Wyatt)           Cuckooland (2003)