Vanguarda Paulista
After Tropicália, Vanguarda Paulista was the most important revolution into MPB (Brazilian Popular Music)

The Vanguarda Paulista or Paulistana was a Brazilian cultural movement that began in the city of Sao Paulo and lasted from 1979 to 1985. It united artists of various musical styles who had no access to the established major labels due to their experimental, avant-garde approach. This period was marked by a go-to-market plan in 1980s Brazil, locally known as the "Lost Decade" due to the economic problems faced by the country.
That context obliged artists like Arrigo Barnabé and Grupo Rumo to finance their own experimental MPB records which, through word of mouth marketing, started a trend in the consumption of alternative albums among university students. Followed by other names like Itamar Assumpção, Premeditando o Breque and Língua de Trapo who used to perform at the Lira Paulistana theater, the movement gained visibility and favorable criticism from the alternative media. Nevertheless, the movement never achieved the commercial success expected by the labels, which led it to its gradual decline.
Nowadays, some of the artists who took part in the Vanguarda Paulista movement are still active, though without the unity of a cultural movement as existed in the early '80s. New generations of musicians influenced by the compositions of the original movement are now usually labeled as new (paulista) vanguardists.


DVD & Book Lira Paulistana e a Vanguarda Paulista - DVD 97' - 2012

Video Sabor de Vanguarda (Vanguarda Paulista) - trabalhos dos alunos da Universidade Metodista de São Paulo (2008)

Video A Fábrica do Som - Especial Vanguarda Paulista

Film HD Daquele Instante em Diante - documentary on the life of Itamar Assumpção - 110' (2011)

Radio program Vertigem, os vultos da vanguarda - by Francisco Fernandes and Pedro Sato (2011)

Discography of Vanguarda Paulista at Rate Your Music

Book Design Gráfico na Vanguarda Paulista by Carolina Vidal Ferreira

Dados Artísticos in Dicionário Cravo Albin da Musica Popular Brasileira


• Radio Program •
Balangandá: Vanguarda Paulista - Radio Città del Capo - Bologna (5-3-2016)

Brasileirando: Vanguarda Paulista - ControRadio - Firenze (20-4-2016)

Trasmissione "Brasil" a cura di Max De Tomassi - RAI Radio Uno - Saxa Rubra - Roma (23-5-2016)
Vanguarda Paulista - II parte
Vanguarda Paulista - III parte
Nota: la I parte della Trasmissione "Brasil" non riguarda la Vanguarda Paulista

Vanguarda Paulista - Radio Popolare - Milano - luglio-settembre 2016
I puntata - Musica colta e canzone. Teoria dell'evoluzione della Musica Popolare Brasiliana
II puntata - Arrigo Barnabé 1979-1984. Il samba erudito: tecniche seriali e dodecafonia nella canzone popolare
III puntata - Itamar Assumpção: Black Power tropicale
IV puntata - Microtonalità e canto parlato (Grupo Rumo, Luiz Tatit e Ná Ozzetti)
V puntata - Sberleffo alla dittatura (Premeditando o Breque, Lingua de Trapo e Patife Band)
VI puntata - Lira Paulistana 1979-1985. Il teatro centro della scena storica della Vanguarda Paulista
VII puntata - Contrappunto, dissonanze e complesse armonie vocali. Le voci femminili della scena
VIII puntata - Arrigo Barnabé dal 1985 ad oggi
IX puntata - Artisti influenzati dalla Vanguarda Paulista
X puntata - La scena paulista contemporanea. 1) il samba-blues di Rômulo Fróes
XI puntata - La scena paulista contemporanea. 2) i gruppi
XII puntata - La scena paulista contemporanea. 3) le voci nuove

JukeBox 900: Vanguarda Paulista - Radio Svizzera Italiana - Lugano - ottobre 2016
I puntata - Arrigo Barnabé
II puntata - Sberleffo alla dittatura e il teatro della Lira Paulistana (1979-1985)
III puntata - Black Power tropicale e microtonalità del canto parlato
IV puntata - La scena paulista contemporanea

Wonderland: Arrigo Barnabé & Vanguarda Paulista - Belgium Radio (in flamish) - December 2016


Paolo Bruno presenta: Vanguarda Paulista - Radio Onda d'Urto - Brescia (22-1-2017)


• Bibliography •
COSTA, Rafael Rodrigues - O manifesto ainda novo da Vanguarda Paulista - Gazeta do Povo (9-11-2014)

DA SILVA, Gilberto Xavier - "Sabor de Veneno: a Vanguarda Paulista na cena Artístico-musical brasileira dos anos 1980" - Estudos Literários da UFMG - Belo Horizonte: v. 9, pp. 125-133, dez. 2005

DE OLIVEIRA, Laerte Fernandes - Em um porão em São Paulo. O Lira Paulistana e a produção alternativa - São Paulo: Annablume/FAPESP, 2002

FENERICK, José Adriano - Façanha às próprias custas: a produção musical da vanguarda paulista (1979-2000) - São Paulo: Annablume/Fapesp, 2007.

FENERICK, José Adriano - "Vanguarda Paulista: apontamentos para uma crítica musical" - Universidade de São Paulo - USP - Fênix - Revista de História e Estudos Culturais - abril-maio-junho 2007 - Vol. 4 Ano IV nº 2

FENERICK, José Adriano - "Outros fins e outros sons: a metrópole e a Vanguarda Paulista" - MNEME - Revista de humanidades - Campus de Caicó, v.4 - n.8 - abr.-set. 2003. p. 241-260

GHEZZI, Daniela Ribas; RIDENTI, Marcelo Siqueira - De um porão para o mundo: a vanguarda paulista e a produção independente de LPs através do selo lira paulistana nos anos 80: um estudo dos campos fonográfico e musical - Universidada Estadual de Campinas, São Paulo, 2003.

LEMINSKI, Estrela Ruiz - "Ouvidos atentos: O Texto verbal e o sonoro na música da vangarda paulista na década de 1980" - Universidade Federal do Paraná, 2011

MACHADO, Regina - A voz da canção popular brasileira: um estudo sobre a Vanguarda Paulista - Atelier Cultural, 2011

RODRIGUES, André Rocha - "A cidade da Vanguarda Paulista" - Revista Urutágua - Acadêmia multidisciplinary - DCS/UEM, n. 21, maio/agosto 2010, p. 14-23

RODRIGUES, André Rocha - "Vanguarda Paulista, um paradoxo da Indústria Cultural" - Faculdade de Ciências e Letras, FCL, Araraquara - Universidade Estadual Paulista, UNESP, São Paulo

SLATER, Russ - "Once Upon A Time In São Paulo" - The Wire - London, December 2017 (issue 406)

SOUZA SANTOS, Anája - A Canção Oculta: um estudo sobre a Vanguarda Paulista - Franca, october 2015

VIDIGAL, Mateus - "Vanguarda Paulista: um movimento que marcou a cultura do Brasil" - Correio Braziliense, 21-4-2015

VIZZOTTO ALCANTARA LOPES, Andrea Maria - "A Música Independente e a Vanguarda Paulista" - Escola de Música e Belas S Artes do Paraná - Curitiba, 2005


Experimental music in Brazil
HJK 100: Centenário Koellreutter - Audição especial em torno do Mestre alemão reúne quatro de seus alunos em conversa com Arrigo Barnabé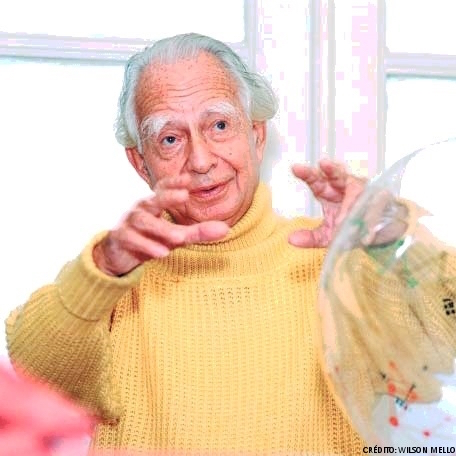 • Videos •
H. J. Koellreutter - documentary by Rogério Sganzerla (2003)

Koellreutter e a música transparente - by Cacá Vicalvi - STB Rede SescSenac de Televisão (2000)

Os Alquimistas do Som - by Renato Levi - TV Cultura & TV PUC (2003)
The documentary provides an overview of experiments in Brazilian Popular Music. The MPB evolutionary line is constructed from exclusive testimonials of Brazilian artists like Tom Zé, Lenin, Arnaldo Antunes, Egberto Gismonti, Arrigo Barnabé - as well as lyricists as Carlos Rennó and conductor Julio Medaglia - and his forays into musical experimentalism (its origins and motivations). Comments are illustrated with musical producer Fernando Faro.