Fabrizio Ottaviucci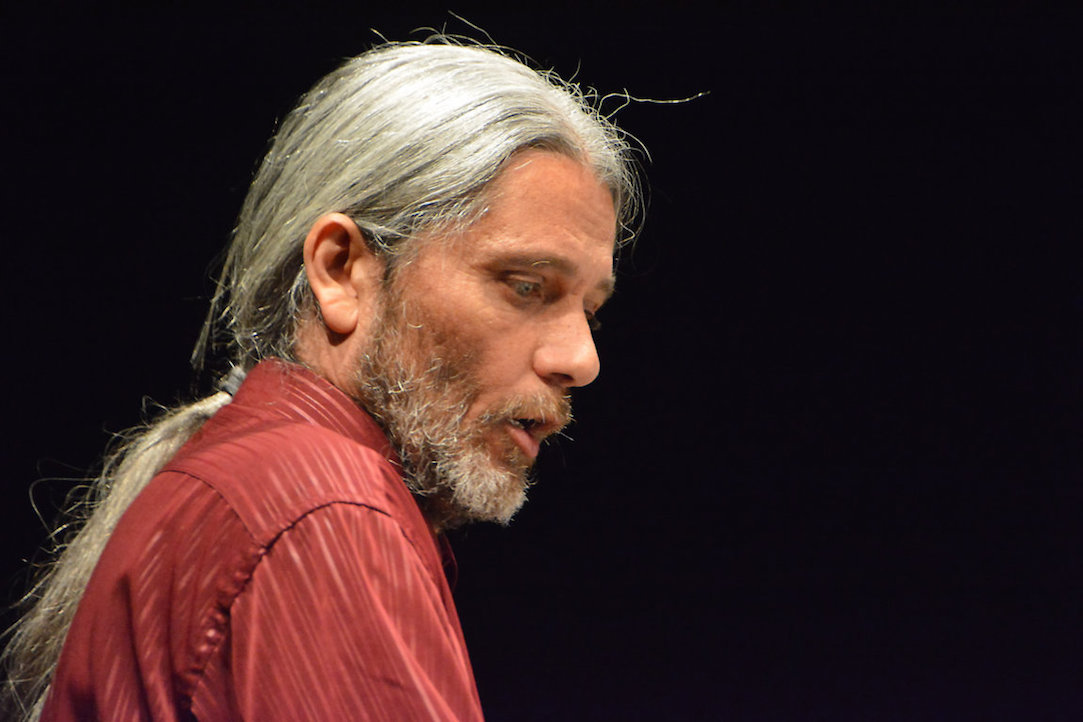 Fabrizio Ottaviucci website
• programs •
Viaggio al centro del suono
Giacinto Scelsi's Suites (includes the unissue "Suite XI b" in worldwide exclusivity)
a) Suite IX Ttai (1953)
Suite X Ka (1954)
Cinque Incantesimi (1953)
b) Suite VIII (1952)
Suite XI (1956)
c) Quattro Illustrazioni sulle Metamorfosi di Visnù (1953)
Suite XI b (1956)*
* The Suite XI b was discovered in 2012 at the Archive of Fondazione Scelsi.
Fondazione Scelsi commissioned the world premiere to Ottaviucci for Angelica Festival in Bologna on year 2013.

John Cage: Sonatas and Interludes for Prepared Piano (1946-48)
compositions by John Cage

Psichedelia
John Cage - "Mysterious Aventure" and "In a Landscape"
Philip Glass - "Modern Love Waltz" and "Opening"
Alvin Curran - "For Cornelius"
Terry Riley - "Keyboard Studies"

African Piano
original compositions for piano solo by african composers of XX Century
Nkeiru Okoye (Nigeria 1972) - "Dusk"
Halim El.Dabh (Egypt 1921) - "Basseet" and "Soufiane"
Akim Euba (Nigeria 1935) - "Scenes for traditional life" and "Igbà Kerin/ Igbà Kinni"
Gamal Andel-Rahim (Egypt 1924-88) - "Variations on an Egyptian Folksong"
Bangambula Vindu (Congo 1953) - "Lullaby"
J.H.Kwabena Nketia (Ghana 1921) - "Volta Fantasy"
Christian Onyeji (Nigeria 1967) - "Ufie III"
Michael Blake (South Africa 1945) - "Ways to put in the salt"
Kevin Volans (South Africa 1949) - "Rhythmic etudes n. 1"
Joshua Uzoigwe (Nigeria 1946-2005) - "Ukum"


Già negli anni cinquanta del secolo scorso si è evidenziata una scuola pianistica nel cuore dell'Africa, soprattutto in Nigeria e Ghana, che prende il nome di "african pianism"; compositori come Akin Euba e J.H. Kwabena Nketia hanno riportato sullo strumento dalla forte tradizione europea le caratteristiche specifiche della musica africana, sia a livello ritmico che melodico. Gli egiziani Halim El Dabh e Gamal Abdel-Rahim hanno negli anni sessanta realizzato la stessa fusione, con stile completamente differente, delle tradizioni musicali del loro paese con le possibilità del pianoforte. Nei decenni successivi dalla Nigeria, dal Congo, Ghana e Sudafrica sono emerse importanti figure di compositori che hanno ulteriormente ampliato il panorama espressivo nato dalla congiunzione dell'ispirazione specificamente africana con il linguaggio e la ricerca della musica europea e americana.
Il programma da concerto "african piano", articolato con opere di compositori che sono nati e che hanno iniziato gli studi nel loro paese di origine, ha nel suo complesso un suono di straordinario fascino, non riconducibile nella sua interezza a nessuna delle esperienze note in occidente, capace di sorprendere per la sua imprevedibilità.



Emanuel Nunes - Giacinto Scelsi
Emmanuel Nunes - "Litanies de feu et de la mer I-II" (1969-71)
Giacinto Scelsi - "Quattro Illustrazioni" (1953)
Giacinto Scelsi - "Cinque Incantesimi" (1953)


Fabrizio Ottaviucci is considered one of the most influential performer of Giacinto Scelsi pianistic work; he began studying the works with the author in the '80s and he kept deepening them getting to a unique and original interpretative proposal, as Scelsi asked him, appreciated with enthusiasm worldwide.
As in the music from Scelsi the most important parameters are those linked to the psychological frequency and to the color and the soul of the sound, in the music from the portuguese Emmanuel Nunes theese features are vitally important. The magical and atmospherical litanies should be performed with the spirit of enchantment and with the quality of the sound that are able to release the maximum potential of it.
Therefore the association Scelsi-Nunes becomes in itself a programmatic proposal of tendency and vision in the wide panorama of the international contemporary music.


for info and costs please contact Alberto Lofoco



• short biography •
Fabrizio Ottaviucci achieved a graduation with honors in Piano at the Conservatorio of Pesaro, under the guidance of Paola Mariotti; besides, he studied Composition with Fausto Razzi and Electronic Music with Walter Branchi.
He performed in hundreds of concerts held in the main Italian and German cities, toured in Spain, Austria, United Kingdom, Poland, Mexico, United States, Canada, India, Korea; of particular relevance is his activity within the contemporary music scene: he performed together with prestigious artists as Rohan De Saram, Stefano Scodanibbio, Mike Svoboda, Francesco Dillon, Daniele Roccato, Markus Stockhausen.
He was repetedly invited to prestigious music festivals like Roma Europa Festival, Festival Pontino, Traiettorie, Milano Musica, Accademia di Santa Cecilia, Fondazione Scelsi, Nuova Consonanza, Rassegna Nuova Musica, Ravenna Festival, Angelica, Biennale, Musica d'hoy, Ruhrtriennale, Imago Dei, Festival Cervantino (Mexico) and many others.
He studied the piano works of Giacinto Scelsi with the composer himself; premiered works of Giacinto Scelsi, Stefano Scodanibbio, Ivan Vandor, Gilberto Cappelli, Alberto Caprioli, Tonino Tesei, Fernando Mencherini, Fabrizio De Rossi Re, Osvaldo Coluccino.
He cooperated with Terry Riley taking part to performances conducted by the composer himself and recording an unpublished version, edited by Stradivarius, of the "Two Keyboard Studies" and "Tread on the Trail" (first transcription for piano of this work).
Since 2011 he has permanently cooperated with the actress and stage director Chiara Guidi of the Societas Raffaello Sanzio.
He recorded works of Scelsi, Cage, Ustvolskaja, Riley, Gubaidulina for the labels Stradivarius and Wergo. He was invited several times to radio programs focused on his artistic course and broadcasted by RAI Radio Tre (Italian national broadcasting company).
Many of his piano recitals have been recorded and broadcasted by Radio and TV companies, both national and international.


• credits •
Fabrizio Ottaviucci plays whit the angelic grace and beauty of a magician from another world. - Terry Riley

the issue is more evident when such a genial work is committed to a piano player as Fabrizio Ottaviucci who combines a sound of really uncommon transparence and a fluent metrical stressing, enchanting to say the least. - Mario Bortolotto, "Amadeus"

he is not the pianist that plays repeating mechanically rather than in an accomplished way, as a composer. - Mario Gamba, "il manifesto"


Wikipedia page in German



• videos •
Ragapiano - Ravenna Festival - 22-6-2009

Terry Riley: "Keyboard Studies n° 1" - Teatro Sociale Gualtieri - Reggio Emilia - 12-9-2014

Alvin Curran: "Inner Cities II" (1994) - Teatro San Leonardo - Bologna - 19-1-2016

Alvin Curran: "For Cornelius" (1982) - Cappella Tenuta dello Scompiglio - Lucca - 19-6-2016

John Cage: "In a Landscape" (1948) - Cappella Tenuta dello Scompiglio - Lucca - 19-6-2016

Cornelius Cardew: "Treatise" (1967) p. 1-19 - Galleria Civica - Modena - 8-2-2018

Giacinto Scelsi: "Cinque incantesimi" (1953) V movimento - Galleria Civica - Modena - 8-2-2018



• discography •
1989 - "Così lontano quasi dentro" - Markus Stockhausen, Gary Peacock, Zoro Babel, Fabrizio Ottaviucci - ECM
1989 - "Mitteleuropa" - Markus Stockhausen, Mario Fragiacomo, Fabrizio Ottaviucci - Spalsc(h)
1995 - "Possible Worlds" - Markus Stockausen, Rohan De Saram, Simon Stockhausen, Ramesh Shotham, Fabrizio Ottaviucci - CMP
2000 - "In Deine Nahe" - Markus Stockhausen, Fabrizio Ottaviucci, Dhafer Youssef, Enrique Diaz, Noirin Nu Riain, Manos Tsangaris - Aktivraum
2007 - "Scelsi Collection n. 1" - Fabrizio Ottaviucci, Roberto Fabbriciani, Quartetto d'archi di Torino, Francesco Dillon, Fulvia Ricevuto, MusicaTeatroEnsaemble - Stradivarius
2008 - "Ragapiano" - Fabrizio Ottaviucci - Odd Times Record/Egea
2008 - Terry Riley: "Keyboard Studies" and "Tread on the Trail" - Fabrizio Ottaviucci - Stradivarius
2009 - "Dream" - Stefano Scodanibbio, Fabrizio Ottaviucci - Wergo
2011 - "Galina Ustvskavaja" - Ludus Gravis, Laura Mancini, Stefano Scodanibbio, Fabrizio Ottaviucci, Marino Formenti, Rohan de Saram - Wergo
2013 - "Sofia Gubaidulina: In Croce" - Daniele Roccato, Massimiliano Pitocco, Fabrizio Ottaviucci - Wergo
2013 - "Spaces and Spheres" - Markus Stockhausen, Stefano Scodanibbio, Tara Bouman, Mark Nauseef, Fabrizio Ottaviucci - Wergo