Satoko Fujii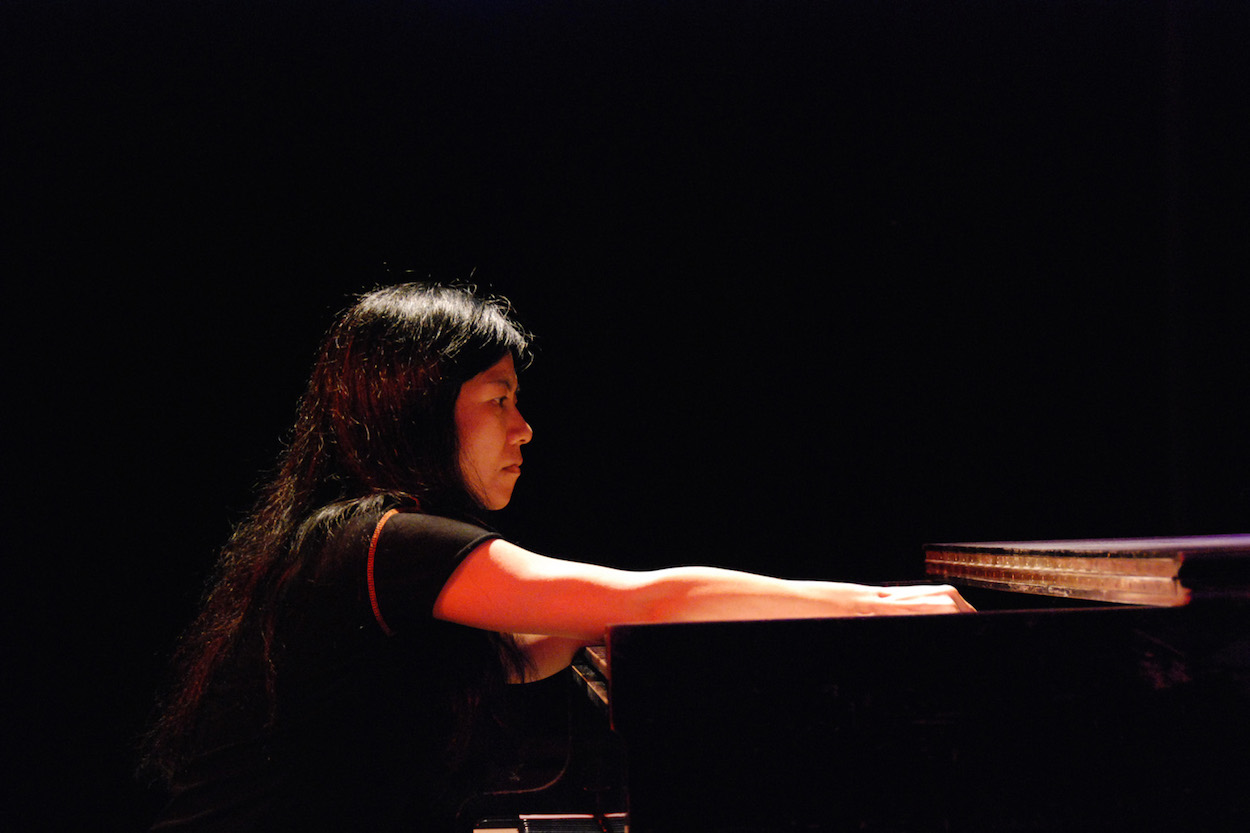 Satoko Fujii website


AKAMU representation: European exclusivity
For info and costs please contact Antonio Pellicori



• projects as a leader/co-leader •
Satoko Fujii Piano Solo
Satoko Fujii - piano

2 Piano Duo
Satoko Fujii - piano
Myra Melford - piano
Also 1 Piano Duo available, Satoko Fujii and Myra Melford on one piano

This Is It!
Natsuki Tamura - trumpet
Satoko Fujii - piano
Takashi Itani - drums

NatSat
Natsuki Tamura - trumpet
Satoko Fujii - piano

Duet
Satoko Fujii - piano
Joe Fonda - double bass

also available on request Natsuki Tamura - trumpet


• biography •
Long Biography

Critics and fans alike hail pianist and composer Satoko Fujii as one of the most original voices in jazz today. She's "a virtuoso piano improviser, an original composer and a band-leader who gets the best collaborators to deliver," says John Fordham in The Guardian. In concert and on nearly 70 albums as a leader or co-leader, the Japanese native (now based in Berlin) synthesizes jazz, contemporary classical, avant-rock and Japanese folk music into an innovative music instantly recognizable as hers alone.

Since she burst onto the scene in 1996 after earning her graduate diploma from New England Conservatory, Fujii has led some of the most consistently creative ensembles in modern improvised music. Her latest ensemble, the Satoko Fujii New Trio featuring bassist Todd Nicholson and drummer Takashi Itani, is the first piano trio she has led since her trio with Mark Dresser and Jim Black last played together in 2008. The all-acoustic Satoko Fujii ma-do quartet, together from 2007 to 2012, showcased the latest developments in her composition for small ensembles in an intimate acoustic setting. Another acoustic quartet, the Min-Yoh Ensemble with her husband trumpeter Natsuki Tamura, trombonist Curtis Hasselbring, and accordionist Andrea Parkins is dedicated to developing written and improvised music in the collective spirit of Japanese folkloric music. Fujii also led an electrifying avant-rock quartet featuring drummer Tatsuya Yoshida of The Ruins from 2001 to 2007.

Fujii has also established herself as one of the world's leading composers for large jazz ensembles. Since 1996, she has released a steady stream of acclaimed releases for large ensemble and in 2006 she simultaneously released four big band albums: one from her New York ensemble, and one each by three different Japanese bands. In 2013 she debuted the Satoko Fujii Orchestra Chicago at the Chicago Jazz Festival.

In addition to playing accordion in Tamura's Gato Libre quartet, she also performs in a duo with Tamura, as an unaccompanied soloist, with the international quartet Kaze, and in ad hoc groupings with musicians working in different genres. Her special projects have included collaborations with ROVA saxophone quartet, violinist Carla Kihlstedt, pianist Myra Melford, and Junk Box, a collaborative trio with Tamura and percussionist John Hollenbeck. She has also toured and recorded with saxophonist Larry Ochs' Sax and Drum Core, and appeared on albums by drummer Jimmy Weinstein, saxophonist Raymond McDonald, and Japanese free jazz legend, trumpeter Itaru Oki.

"Whether performing with her orchestra, combo, or playing solo piano, Satoko Fujii points the listener towards the future of music itself rather than simply providing entertainment," writes Junichi Konuma in Asahi Graph. She tours regularly appearing at festivals and clubs in the U.S., Canada, Japan, and Europe. Her ultimate goal: "I would love to make music that no one has heard before."


Satoko Fujii Celebrates Her 60th Birthday by Releasing One New CD Each Month in 2018

In pianist-composer Satoko Fujii's native Japan, reaching the age of 60 is traditionally so important that there's a special word for the milestone-kanreki. It's a moment to remember life's accomplishments and to put former troubles behind you. The celebrant enters the next stage of life with the all joy and expectations of a newborn child. To celebrate her own 60th birthday, Fujii, already a prolific bandleader with more than 80 releases to her name, will intensify her recording schedule, releasing one CD a month for all of 2018. Rather than using her kanreki year to look back at a career that has spanned more than 30 years, Fujii will emphasize new works for current projects, debut special projects, and introduce new working bands in an unprecedented 12-month spree of new releases. "I probably should think and notice that I am not young anymore", she says, "but I just keep doing what I want to do".
The pulse of any fan of Fujii's unique musical vision will quicken at the thought of the anticipated albums. The celebration kicks off in January with Satoko Fujii: Solo (Libra), a live recording from the acoustically rich Yume Mikan Hall in Yawatahama, Japan. In a mesmerizing concert, she performed without a set list, simply improvising and playing compositions as they arose in the flow of the music. Two releases by current ensembles will follow. In February, Atody Man (Circum Libra), the fourth release from KAZE, the collaborative group with trumpeters Natsuki Tamura and Christian Pruvost and drummer Peter Orins, will feature more fiercely energetic improvising from the international quartet. March will see the releases of Ninety-Nine Years (Libra), the latest from Orchestra Berlin. A new one from Orchestra Tokyo is also planned.
In addition, the dozen new releases will include the recording debuts of a new piano-bass-drums trio and This Is It!, a trio featuring Fujii with Natsuki Tamura on trumpet and Takashi Itani on percussion. Also slated is Intelsat, a duet with Australian pianist Alister Spence and May (Long Song Records), which showcases a one-time trio with Italian soprano saxophonist Gianni Mimmo and American bassist Joe Fonda, with whom Fujii released a critically acclaimed duo album in 2016.
Other surprises and delights will be in store over the course of the year, in what is sure to be an unforgettable outpouring of musical riches.



• videos •
Satoko Fujii "This is It!" / 2017-2018

Piano solo @ Inage Candy / Chiba / 27-4-2011

Carla Kihlstedt & Satoko Fujii @ Jazzfestival Saalfelden 2010

Duet with Joe Fonda

2 Piano Duet with Myra Melford

Duo with Natsuka Tamura

Solo



• discography, interviews and pictures •
Discography at Satoko Fujii website

Video interview by underyourskin.net

Pictures at Satoko Fujii website