Dudù Kouate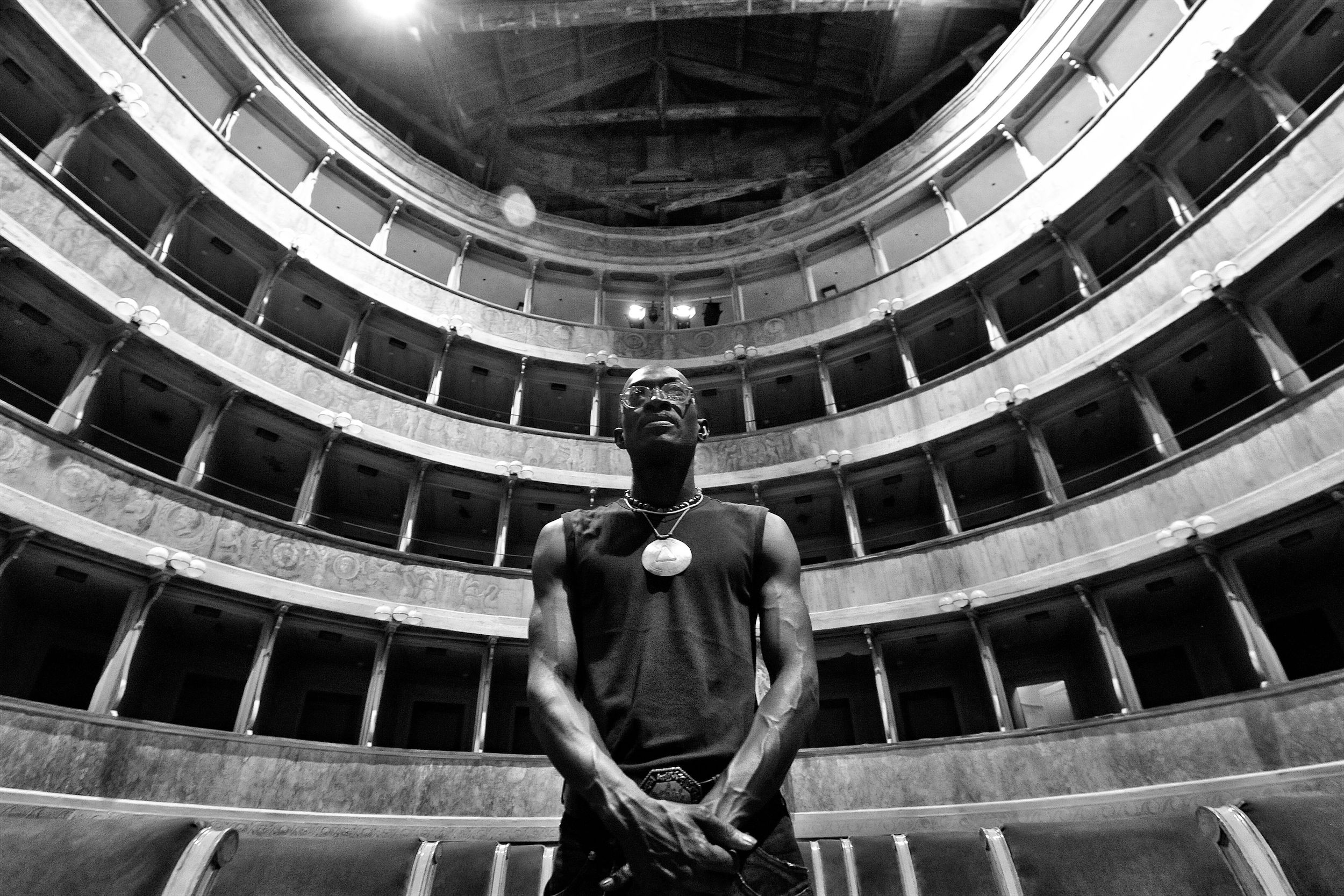 Dudù Kouate website

AKAMU representation: worldwide exclusivity
For info and costs please contact Paolo Locatelli



• projects as a leader/co-leader •
Dudù Kouate Solo
Dudù Kouate - vocals, african percussion, lutes, djembe, kanjira, water pumpkins drums, talking drum, ngoni


"Peacemakers at Work"
Aruán Ortiz - piano and composition
Brad Jones or Sélène Saint-Aimé - double bass
Dudu Kouate - african percussion and vocals


Dudù Kouate Visual Trio
Simon Sieger - piano, organ, trombone
Alan Keary - electric bass and violin
Dudù Kouate - vocals, african percussion, water pumpkins drums, talking drum, ngoni


Kouate-Bolognesi-Griffin
Dudù Kouate - vocals, african percussion, lutes, djembe, kanjira, water pumpkins drums, talking drum, ngoni
Silvia Bolognesi - double bass and vocals
Griffin Rodriguez - vocals, electronics


Dudù Kouate Quartet: "The Africation"
Eloisa Manera - violin and electronics
Daniela Savoldi - cello
Alessandra Bossa - piano, synth, electronics
Dudù Kouate - composition, vocals, african percussion, flute, djembe, water pumpkins drums, talking drum, ngoni



• projects as a sideman •
The Art Ensemble of Chicago - The Sixth Decade (1969-) (small ensemble)
A Tribute to Lester Bowie, Joseph Jarman, Malachi Favors Maghostut
and their lasting contributions to "Great Black Music - Ancient to the Future"

Roscoe Mitchell - saxophones
Famoudou Don Moye - drums, congas and percussion
with guest artists:
Simon Sieger - tuba, piano and trombone
Abel Selaocoe - cello and vocals or Tomeka Reid - cello
Junius Paul - double bass and electric bass
Dudu Kouaté - african percussion, flute, pumpkins water drums and vocals


Witch 'n' Monk + special guest Dudu Kouate
Heidi Heidelberg - vocals and electric guitar
Mauricio Velasierra - quena and mozeño flutes, sikus and effects
Dudù Kouate - vocals, african percussion, lutes, djembe, kanjira, water pumpkins drums, talking drum, ngoni


Famoudou Don Moye plays Art Ensemble of Chicago
Famoudou Don Moye - drums, gongs, congas and percussion
Moor Mother - spoken word
eddy kwon - violin
Simon Sieger - piano, trombone, tuba
Junius Paul - double bass and electric bass
Dudu Kouaté - vocals, flute, tama, djembe, percussion, water pumpkins drums


Famoudou Don Moye "Odyssey & Legacy Sextet"
Pierre Durand - electric guitar
Simon Sieger - piano, trombone, tuba
Darryl Hall - double bass and electric bass
Famoudou Don Moye - drums, gongs, bongos, congas and percussion
Dudu Kouaté - vocals, flute, tama, djembe, percussion, water pumpkins drums
Doussou Tuorè - african percussion, small percussions




• biography •
Dudù Kouate is born in Senegal in 1963 by a family of griots, known for being the conservators of the African cultural and musical tradition.
After his humanistic studies in his country he left for Europe. He lives in Italy where he has been teaching African percussions for many years.
He holds seminars on the history of traditional African instruments trying to trace the territorial boundaries of the populations and disseminating the African cultural tradition through tales of musical fairy tales.

From 2017 he collaborates on a permanent basis with the Art Ensemble of Chicago.
With them he play in Reggio Emilia (festival Aperto), Melbourne (Supersense Festival), Chicago Jazz Festival, Roma (auditorium Parco della Musica), Nantes, Stockholm Jazz Festival, Den Haag, Porto, Vilnius, Skopje Jazz Festival, Washington DC (Kennedy Center), Paris (Sons d'Hiver).
He records with them the double CD "We Are On The Edge" (PI Recordings) released on 2019.

Multi-instrumentalist, he plays in different styles: Afro-jazz, modern, traditional and contemporary music.
The constant search for sound (sound of elements), always pushes him towards new and interesting experiences in the world of music. Recognized validator of traditional instruments and especially percussion, he managed to find their insertion within diversified musical contexts. Thanks to that, on 2019 he played at the at the Assilah International Cultural Moussem and at the Atlantic Music Expo held in Capo Verde.
In 2018 he released the album "Africation" in which Dudu plays the role assigned to him by tradition and makes him re-live in a modern and multicultural way: the songs are mainly sung in his mother tongue, Wolof, with some reference to Bambaraà phrases in French and Italian, and express an intense emotional charge also thanks to the use of new and original sounds.

• video •
Video of Dudù Kouate on YouTube

The Africation Trio live at Rumori Mediterranei 2021, Roccella Jonica
Nenamaya, La Vita! live at TEDxBergamo

• discography •
2023 - The Sixth Decade - From Paris to Paris (live at Sons d'Hiver) - Art Ensemble of Chicago, RogueArt
2019 - Africation (solo)
2019 - We Are On The Edge - Art Ensemble of Chicago, PI Recordings
2019 - The Gift of Togetherness - Cristiano Calcagnile Multikulti Ensemble, Caligola Record
2019 - Suite for a Friend - Graziano Gatti Quadri Interact Quartet, U&R records
2016 - Cherry On (Cristiano Calcagnile Multikulti Ensemble) - Caligola Records
2003 - Pensieri Africani (Dudù Kouate - Guido Bombardieri) - Amandla produzioni