Famoudou Don Moye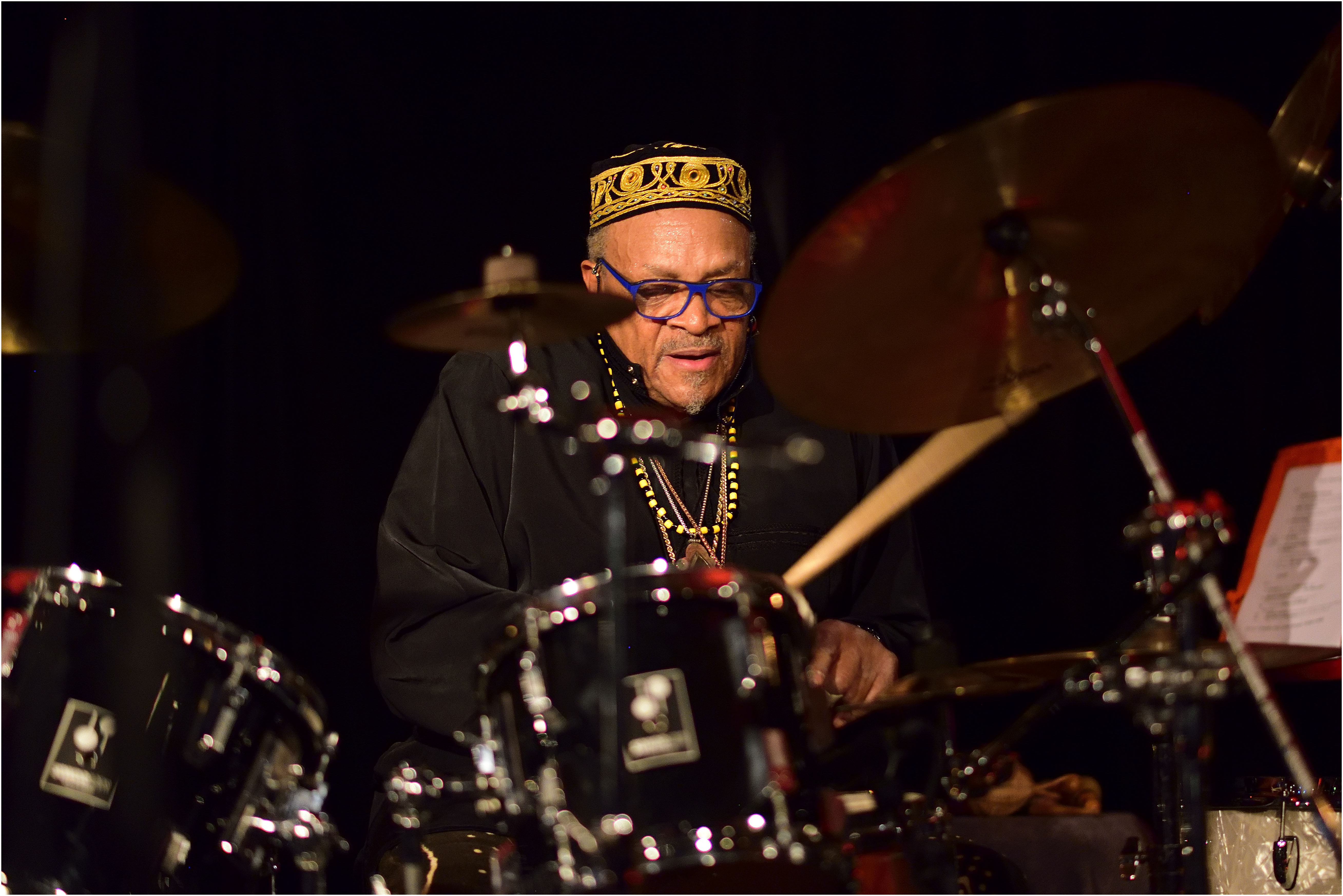 Photo by Frank Bigotte


AKAMU representation: World exclusivity
For info and costs please contact Paolo Locatelli


• projects as a leader •
Famoudou Don Moye plays Art Ensemble of Chicago
Famoudou Don Moye - drums, gongs, congas and percussion
Moor Mother - spoken word
eddy kwon - violin
Simon Sieger - piano, trombone, tuba
Junius Paul - double bass and electric bass
Dudu Kouaté - vocals, flute, tama, djembe, percussion, water pumpkins drums


Famoudou Don Moye "Odyssey & Legacy Sextet"
Pierre Durand - electric guitar
Simon Sieger - piano, trombone, tuba
Darryl Hall - double bass and electric bass
Famoudou Don Moye - drums, gongs, bongos, congas and percussion
Dudu Kouaté - vocals, flute, tama, djembe, percussion, water pumpkins drums
Doussou Tuorè - african percussion, small percussions


Famoudou Don Moye "Odyssey & Legacy Trio"
Christoph Leloil - trumpet and flugelhorn
Simon Sieger - piano, trombone, tuba
Famoudou Don Moye - drums, gongs, bongos, congas and percussion


For The Art Ensemble of Chicago go to this link

• video •
Famoudou Don Moye Trio "VaL Verde" - live at Porgy & Bess - Vienna on May 16th, 2022



Famoudou Don Moye "Odyssey & Legacy Quintet" + guest Doussou Touré - live at "Sons d'Hiver 2021" - Paris

Famoudou Don Moye "Odyssey & Legacy Quintet" - live at "Rumori Mediterranei 2020" - Roccella Jonica


• biography •
He is since 1969 the drummer and percussionist of The Art Ensemble of Chicago with whom he recorded more than 70 CDs among the 180 CDs of his discography.
Born in Rochester / New York in 1946 in a music loving family, he studied music and philosophy at Wayne State University in Detroit where he met the trumpet player, Charles Moore who became his mentor, and where in 1966 he first heard the trio of Roscoe Mitchell, Lester Bowie and Malachi Favors and later Joseph Jarman who went on to become.


ART ENSEMBLE OF CHICAGO, GREAT BLACK MUSIC / ANCIENT TO THE FUTURE

Famoudou Don Moye has performed with numerous musicians on the American and international music circuit among them Randy Weston, Archie Shepp, Mal Waldron, Don Cherry, Steve Lacy, Pharaoh Saunders, Sun Ra All Stars, Von & Chico Freeman Quintet, Sam Rivers, Don Cherry, Wadada Leo Smith, Hamiett Bluiett, David Murray, Oliver Lake, Famoudou Konate, Fontella Bass, Abbey Lincoln, Billy Cobham, Billy Higgins, Roy Haynes, Cecil Mc Bee, Jack De Jonette, Philly Joe Jones, Kenny Clarke, Milford Graves, Frank Lacy, The Leaders, Lester Bowie Brass Fantasy, Don Pullen, Cecil Taylor and many more.
He continues performing and recording with The Art Ensemble of Chicago which is now celebrating it's 50th anniversary 1969 - 2019.
Knowed and recognized for his knowledge and continuing studies of world rhythms and Afro-carabean music, he continues his research of traditional rhythms of Guinée, Mali, Senegal, Congo, Marocco, Cuba, and the Blues, Gospel, Jazz and popular music of the African American Cultural Tradition. He remains committed to the relentless pursuit of The Pan African Pulse throughout The Diaspora and beyond.
He presents internationally workshops and master classes for drums, percussion and multiinstrumental improvisation for individuals and collectives : GRIM (Groupe de Recherche d'Improvisation Musicale) Marseille/France, Conservatoire de Musique de Brest/France, Université de Toulouse/France, F.O.L (Fédération des Oeuvres Laïques) Casablanca/Maroc, Apositsia Festival, St Petersburg/Russie etc.


• interviews •
Art Ensemble of Chicago celebrates 50 years by Nate Chinen
Interview by Jake Feinberg

• press review •
Photo Reportage by Frank Bigotte

• credits •